News and press releases
Attention, action!
It's time to realize the dream! Car loans with a discount of 1 000 000 sum!

JSCB "InfinBANK" is an official partner of GM Uzbekistan for car loans and therefore on the eve of Teachers and Mentors Day we are launching a special action. Now each customer receives a discount of 1,000,000 soums when registering a car loan for "Spark" R2 Optimum A / T,

The action starts on September 26 and will last until November 10, 2018.

A preferential loan can be issued in all branches of JSCB "InfinBANK" under the following conditions:

1) contribution of 10% - up to 5 years - 22% per annum
2) contribution of 30% - up to 3 years - 20% per annum
3) contribution of 50% - up to 2 years - 19% per annum
4) contribution of 60% - up to 15 months - 18% per annum

You can always get information about the nearest branch of JSCB "InfinBANK" by calling the single contact center of JSCB "InfinBANK" at: 71-202-50-60

We wish you good mood and pleasant shopping!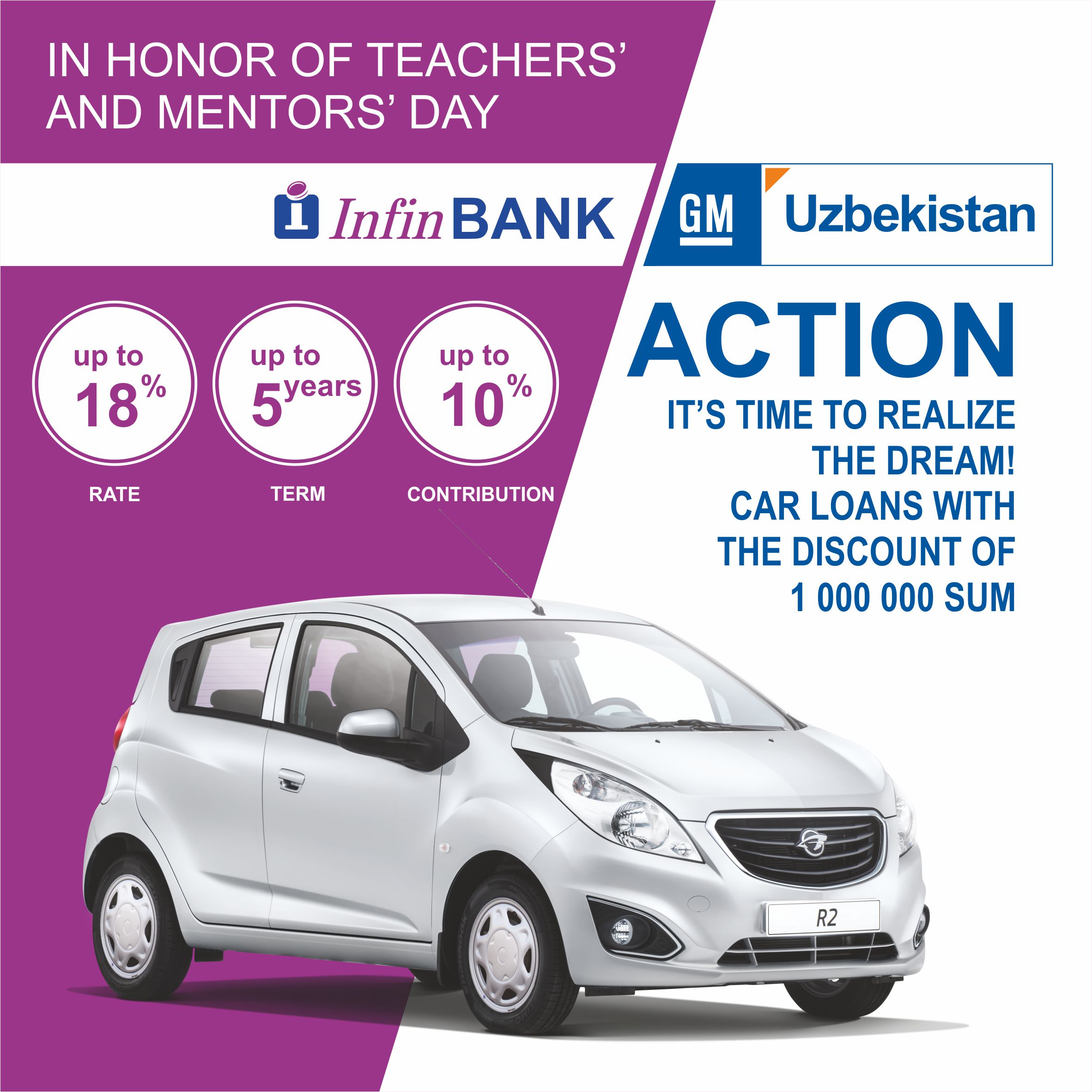 Additionally
| | | | | | | |
| --- | --- | --- | --- | --- | --- | --- |
| Currency | USD | EUR | GBP | JPY | RUB | CNY |
| CB rate | 8312.64 | 9456.46 | 10578.67 | 73.75 | 125.22 | 1209.41 |
| Buy | 8300,00 | 8440,00 | 10065,00 | 64,00 | - | - |
| Sell | 8340,00 | 9485,00 | 10615.00 | 74,00 | - | - |
| UzRCE rates | 8326.00 | 9998.00 | - | - | - | - |