International VISA plastic cards
This card is accepted for payment at almost all points where there is a Visa logo. It can be used in both electronic and mechanical payment terminals.
Today, the need for e-money is increasingly coming to the fore for people not only in major cities but also in the most remote places, where there is no any bank. The use of mobile devices to access their funds, online purchase, international money transfers and other financial services to make people's lives easier and more comfortable, and help develop the country's economy. JSCB "InFinBank" invites you to get acquainted with Visa and get useful information relating to their everyday use.
VISA Direct
Visa Direct is a fast, easy and secure way to transfer funds between Visa cards in real time around the world.
How to use the Visa Direct service?
1.Необходимо быть идентифицированным клиентом Банка;
2.Наличие карты Visa и мобильного приложения Банка;
3.В мобильном приложении перейти во вкладку «Денежные переводы Visa Direct» в главном меню или через вкладку «переводы» выбрать пункт «Visa Direct»;
4.В открывшемся окне перевода выбрать карту Visa для списания средств, ввести полный номер карты, Имя и Фамилию получателя и указать сумму перевода;
5.Нажать на кнопку «Перевести»;
6.Далее необходимо удостоверится в правильности введенных деталей перевода в появившемся окне «Подтверждение операции»;
7.Подтвердить перевод;
8.Ввести единоразовый СМС код, отправленный на привязанный Ваш номер телефона для подтверждения и в целях безопасности;
9.Готово!1
1.Фактическая доступность денежных средств у получателя может зависит от внутренних процедур конкретных финансовых учреждений и региона.
Доступные страны для отправки через Visa Direct:
Австралия, Австрия, Азербайджан, Армения, Афганистан, Беларусь, Бельгия, Болгария, Великобритания, Венгрия, Германия, Гонконг, Греция, Грузия, Дания, Египет, Израиль, Индия, Индонезия, Испания, Италия, Казахстан, Кипр, Киргизстан, Китай, Латвия, Литва, Люксембург, Малайзия, Мальта, Молдова, Нидерланды, Новая Зеландия, Норвегия, Объединённые Арабские Эмираты, Пакистан, Польша, Румыния, Саудовская Аравия, Сингапур, Словакия, Словения, Таджикистан, Таиланд, Туркменистан, Турция, Узбекистан, Украина, Финляндия, Хорватия, Чехия, Швейцария, Швеция, Эстония, Южная Корея (Республика Корея).
Лимиты переводов Visa Direct
Дневной лимит: 1 000 долларов США

Месячный лимит: 10 000 долларов США

Минимальная сумма перевода: 1 доллар США
Комиссия за перевод Visa Direct:
За осуществление перевода со стороны Банка взымается комиссия в размере 1% от суммы перевода, но не менее 2 долларов США, в соответствии с утвержденным тарифом Банка. За переводы между картами выпущенными со стороны АКБ «InfinBANK» комиссия за перевод не взымается.
VISA CLASSIC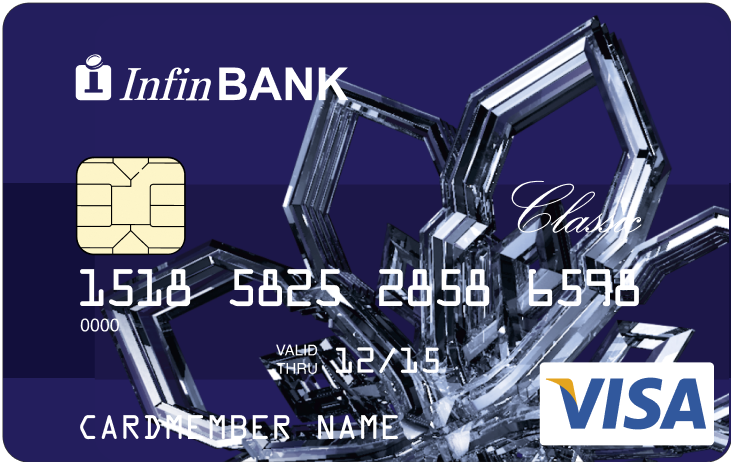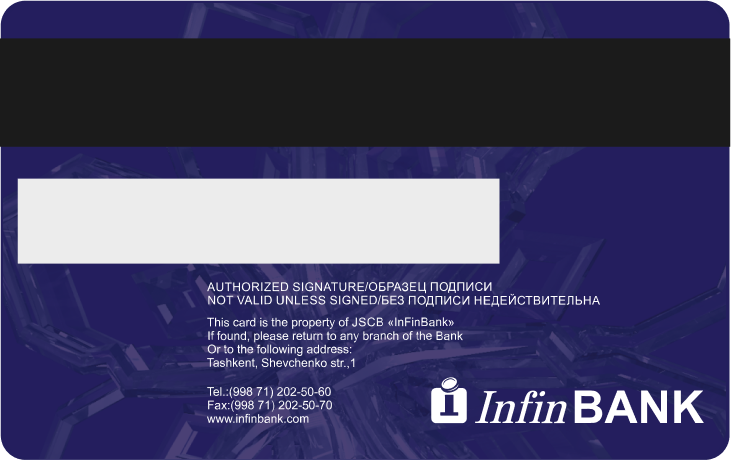 This card is accepted in almost all locations where there is a logo of Visa. It can be used both in electronic and mechanical payment terminals, ATMs, and accepted for payment via the Internet or by telephone as well. This card is designed for those who already have experience in the use of bank cards. It is popular among consumers who have middle-level income, as it ensures convenience, choice and financial flexibility. With the card you can make so-called "booking operations", for example, hotel rooms, airline tickets and other goods. To do this, the client typically informs the details of the card to the seller of goods or services, and after the client receives the goods or use the services, the seller will write off the corresponding amount from the card account of customer. Approximately the same payment is made at purchases over the Internet. For Internet payments on the card, there is a special service code, which is indicated on the reverse side of the card which consists of three digits.
VISA GOLD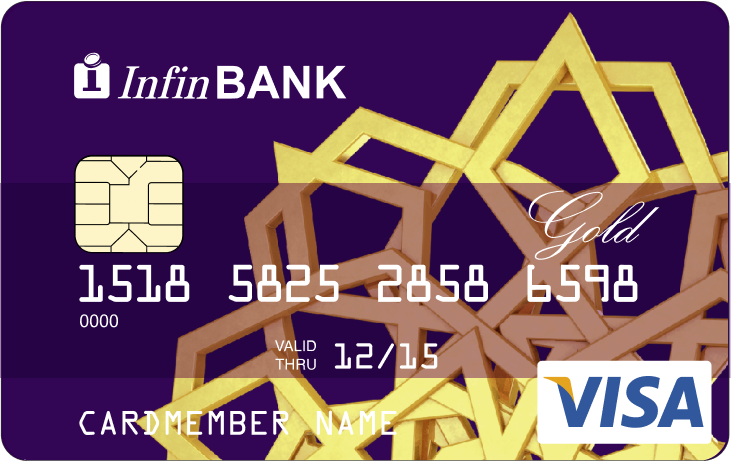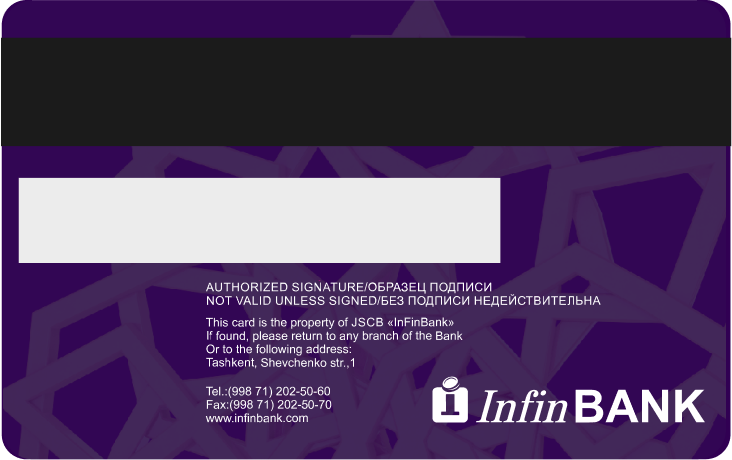 This prestigious card emphasizes the high social status of its owner and is the guarantor of special attention for maintenance. With such a card holder will feel himself more than comfortable in the world's best hotels, clubs, boutiques, casinos, and restaurants. In addition to the advantages of the classic card Visa Classic, cardholders of Visa Gold categories regularly use the exclusive privileges and significant discounts when paying for goods or services all over the world.
VISA PLATINUM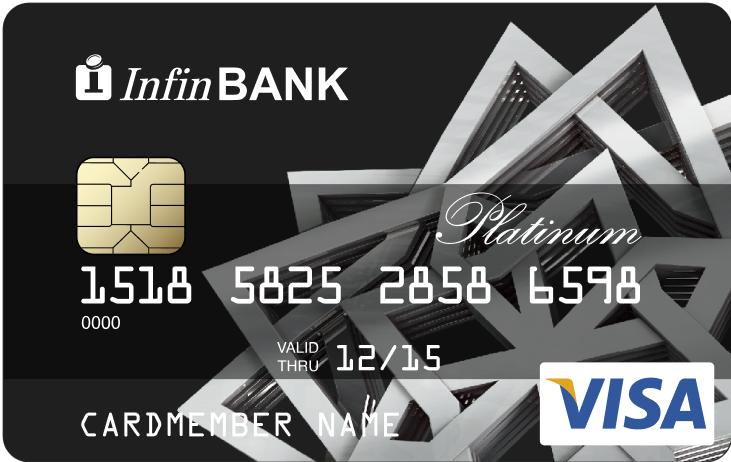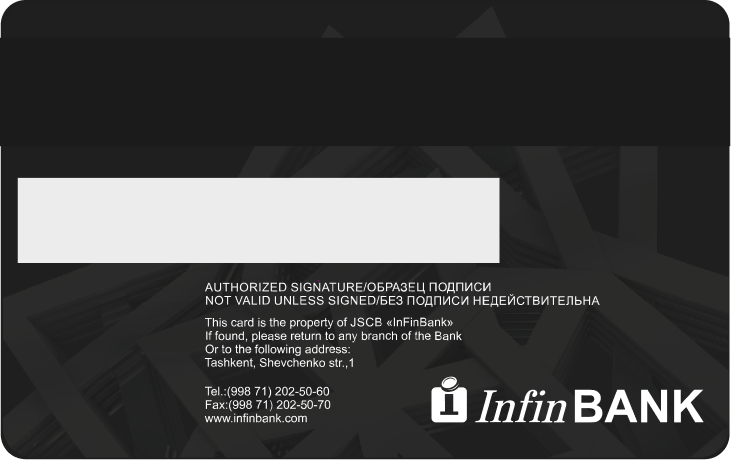 Visa Platinum is the most prestigious premium card for people with high incomes and social status. Visa Platinum offers to customers an exclusive world of privileges and the highest quality of service, as well as a sign of special respect and trust.
Visa Platinum symbolizes the highest level of service and attention to the holder of the card. Many shops and restaurants are happy to take part in the privileges programs for holders of Visa Platinum. Visa Platinum card provides you an excellent opportunity not only to pay for any goods and services, but also gives you number of important benefits that can make your life easier and brighter.
To become a cardholder, you should apply to any branch of JSCB «InFinBank». In this case you will need to submit a bank employee one of the original identity documents and fill out the application.
Phone of specialist working with international plastic cards:
(+998 71) 202-50-70, (+998 71) 202-50-71